In RL, My name is Nadia de Langen and I am a young woman of 26 years of age. I am French-Canadian with Dutch Origins. Although I was raised in Private Schools for most of my life, I have enjoyed the privileges that my education has brought me but I was thankful to get some freedom afterwards.
After High School, I studied for a year at College Bois-de-Boulogne before transferring to Champlain St-Lambert Cegep where I graduated in June 1997 in Social Sciences (with Mathematics) and a Certificate of World Studies. I also became an Alumni at that time. The best times I had where with the group of World Studies, we were not many students and we followed specific courses together. We also had annual trips such as in New York City and in Washington DC.
I live in Laval, Quebec, Canada. I have traveled extensively and have incorporated many different cultures into my life. But I can assure you that my travels are far from over. There are many countries that I hope to visit one day as well as go see many of my friends I have made through the Ancient Civilization Communities. Here are a few of them, you can be sure to find me in one of the followings at one time or other,
This is probably the reason for my passion on Ancient and Classical Civilizations as well as the Medieval Era. I have a Bachelor Degree in Classical Civilizations with a cluster in Greek Studies from Concordia University. While in University, I joined Zeta Tau Omega Sorority from which I have become an Alumni in May 2001. Here is a picture of my Pledge Class and some of the active sisters at the time. I am one of the girls in the white shirts with the red letters.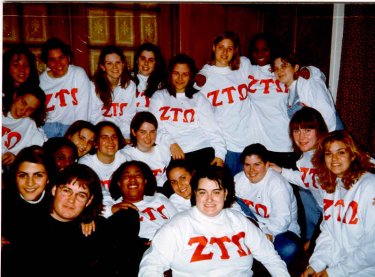 This is one of my dear Pledge Sisters and me at one of our Annual Sorority Party called "Drink-Off" where every Greek Organizations (fraternities and sororities) invite people that buy tickets and drink for the organization of their choice. We tend to win every year, not because we host the party at the sorority house, but because we have good connections... we invite the rugby and football teams to drink on our behalf.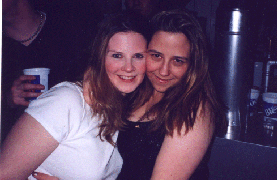 Here are some pictures of my Graduation Ceremony from Concordia University that happened in May 2001 in the Molson Center.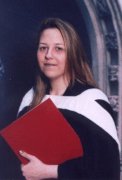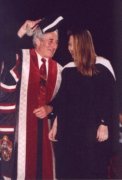 As for my work, I have my own business where I manufacture swimwear (for security reasons I may not name the Company Name). Although this position may seem very impressive for a young woman like myself, I was raised in the industry by my parents business.
As for my social life, I am in love (a.k.a. Somatophylax Alexandros) who has captured my heart and soul. We actually had a virtual wedding on the community of Ancient Sites right before it's fall. We were the last ones to do so before the end which brought sorrow to everyone's heart to see our dear community crumble before our very own eyes. As a present from my virtual family, the Curii, We received a plaque designed by my little sister, Laurels Curius, who's talent has no limits.

From a dear friend, Mary Iceni of Tara, I also received a pair of bracelets in honor of my new status as Matrona of the Alexandros Family, at the side of my new beloved husband, paterfamilias of the Alexandros Family of Athens, Som.

Here are some pictures from my past:
1- The first 2 from the left are when I was less than 4 years old.
2- The second picture if of my older brother and I.
3- The Third picture if from my Communion.
4- The fourth picture is of me between the ages of 10-12 when I was a figure skater.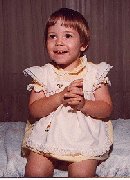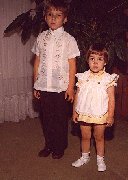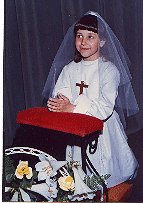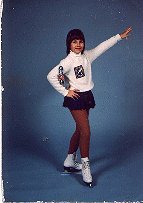 Here are some more recent pictures from me:
1- The first one was taken in Holland at the Keukenhof.
2- The second one is my holding a friends kitten (btw, I am actually allergic to it).
3- the Third one if of one of my best friend and I on Halloween 2001.
(He was dressed as a Pimp and I decided to brighten the day with my Orange Dutch Jersey from the Euro Cup 2000).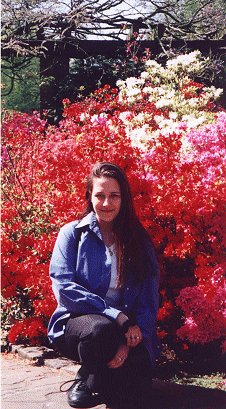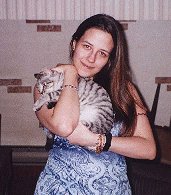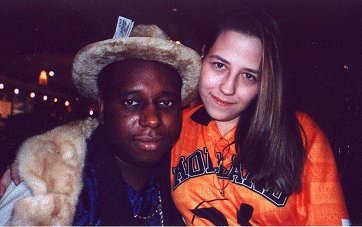 Here is a picture of my beautiful dog Snowball:
She was born on June 2 1990.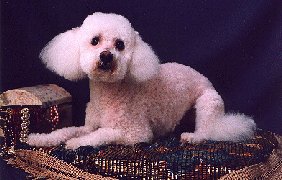 Here are some Papers that I wrote in University:
Conflicts between Deities
Evolution of Greek Temples until the Parthenon
Minoan Palaces of Crete and their Functions