Welcome to My New Domus



"I am the servant Aurora, click me and I shall carry your words directly to Matrona Proserpina"

Come in! Don't be shy!

My name is Proserpina Curius Alexandros.

You can find me in the following sites with the following positions:
Ancient Times: Regent, Moderator and Group Leader
Ancient World: Founding Millennium Patron with prestigious titles in many groups, especially Lady of the Lake in ArturusRex
Pan Historia: Writer in the Legion

Feel free to visit my husband's on-line store to buy anything Egyptian, Celtic, Roman, Greek, Oriental... (this is an RL Company):

Please visit In Memory in honor of a beloved member that has passed away: Broom NiaFer

Here are the Curii & Alexandros Family members:

Materfamilias of the Curii

Husband Somatophylax Alexandros




Paterfamilias of the Alexandros


Defender of the Curii Pride & Honor


Wife of Terbus Curius


Family Artist & Matrona in training


Student of the Arts


Military Strategist


Family Actress & Black Sheep


Goldsmith


Sister-in-Law


Adopted
Here is their formal invitation to the wedding of my brother Terbus Curius and Silvina Maximus *Domus on Ancient Worlds* or Silvina Maximus Private Domus. They were married on pan Historia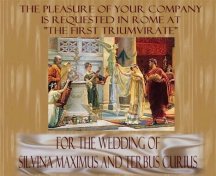 My younger cousin Mnemosyne's Private Domus that is still under construction

If you are interested in redecorating your home or
you simply to need assistance, please do not be shy
to contact me.

I welcome all Family members to post on their arrival as well as I will be creating a Family Page for the entire family where we can gather and stay together. For more information, please contact me.


Please visit the Oikos of my Husband Somatophylax Alexandros! or his new Oikos on the New AS
we were married on March 24th 2001 in the Rome Sites
Chat Room @ 3pm AS time.




Gift from my dear little sister Laurels Curius.

Proud member of the Curius Family in Rome!!!
I am the Matrona of the Family as well!!!
I am also the Current Family Editor!
I was Comitia Tributa Representative in The Regia.
Please visit our Family Home by clicking on the Plaque!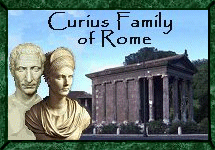 Ancient Homes NetRing by Seshat
[ Prev | Skip Prev | Prev 5 | List | Stats
Join | Rand | Next 5 | Skip Next | Next ]


Powered by RingSurf!